Complete Care was created by two Prescott medical providers wanting to provide the community with more personalized care. With over two decades of combined experience in orthopedics, emergency medicine, and urgent care, Kaia and Zachary have felt for years that the Prescott community has been in need of better patient-provider relationships. Often, patients turn to expensive urgent cares or emergency rooms for medical care simply because they do not have a primary care provider, or because if they do, it takes weeks to months to get an appointment. At Complete Care, we want to change that. We hope you find us to be a quality and cost-saving solution for your primary care needs.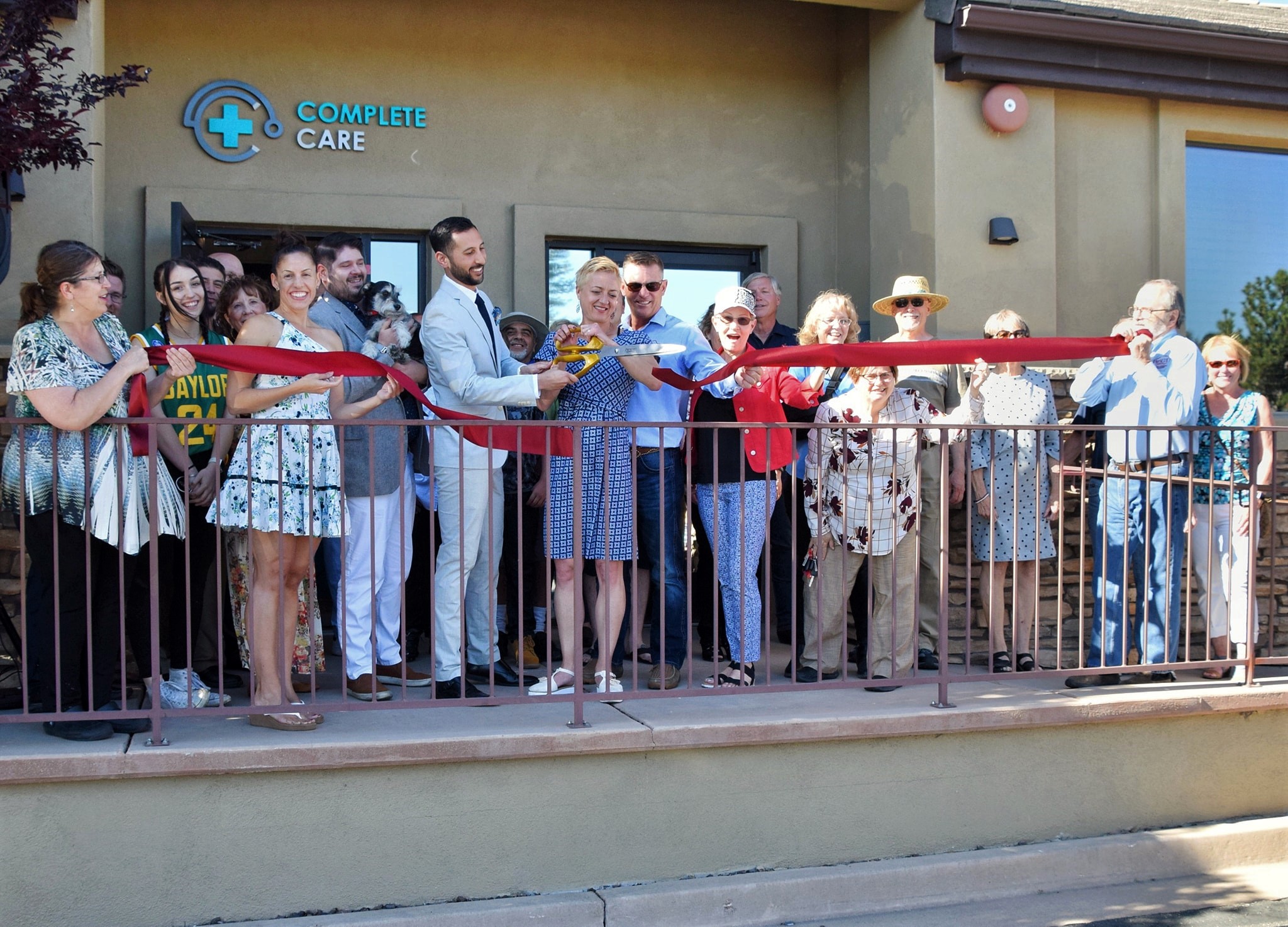 Kaia Kordosky-Herrera, PA-C
Kaia has called Prescott her home since 2012. An Arizona native, she cherishes her foundational time in Tucson, as well as her professional training years in Phoenix and her early career in the Verde Valley. Kaia started her career as a teacher, and feels her educational background makes her uniquely fashioned to help facilitate patient understanding of their personal role in health management. Kaia fully believes in the importance of patient education; understanding medical necessity and implication of care is fundamental in creating a complete treatment plan. Kaia believes in the gravity of disease prevention. She looks forward to working with patients to create a dialogue that will create a condition to ward off future problems. Kaia started her PA career in a small town emergency room caring for a variety of age groups in all stages of medical conditions. She then went on to work in orthopedics, seeing all ages and stages of orthopedic related maladies. Most recently she has been on staff at a local urgent care that caters to the needs of the Prescott community.  After hours Kaia enjoys time with her 3 children, 1 grandchild, 2 dogs and 2 cats. She enjoys hiking, weightlifting, spin class and yoga. She is an avid cook, believing healthy cooking can be delicious and satisfying. She also crochets and reads an obsessive amount of books (Love Prescott Library).
Kaia received her undergrad in Education at the University of Arizona (GO CATS!!!). She was awarded student teacher of the year.  She worked 5 years in education before returning to graduate school at Midwestern University where she received her Masters of Science in Physician Assistant Studies. She was awarded research student of the year and had a published scientific article prior to her graduation. Kaia is an avid learner and is continually expanding her knowledge though medical journals, peer reviews and continuing medical education.
Zachary Leonard, PA-C
Zachary has been proud to call Prescott home since 2012. Having a bicoastal upbringing, he has always enjoyed creating meaningful connections with a wide variety of people and values volunteerism and community service. Zachary realized early in his training that the best care comes from developing individual relationships with patients, something that is missing in an increasingly depersonalized healthcare system. He started his career practicing medicine in urgent care treating a wide variety of illnesses and injuries. He also cares for the community in the Emergency Department at Yavapai Regional Medical Center where he continues to see patients today.
When he isn't healing the community, you can find him on the ski slopes, setting sail on the open water, or maintaining his health with CrossFit. Zachary serves on the board of directors for local non-profits. He volunteers annually as a professional dancer for the Boys & Girls Clubs "Dancing for the Stars" and provides first aid at Captain CrossFit's "Annual 19 Hotshots Memorial WOD" event. Previously, he volunteered as a Field of Play team member in aquatics at the 2016 Rio Olympic Games, was featured as one of Prescott's "40 under 40" by Prescott Living Magazine, and was a recipient of the Prescott Area Young Professionals Visionary Award. He is also a graduate of Prescott Area Leadership.
Zachary received his Masters of Science in Physician Assistant Studies from King's College in Wilkes-Barre, PA. He is certified by the National Commission on Certification of Physician Assistants (NCCPA) and is a Fellow of the American Academy of Physician Assistants.
Julie Waite, ARNP
Julie comes to us from the Pacific Northwest where she has worked as a Nurse
Practitioner for the past 22 years. She spent the first six years of her career in Family
Practice providing medical care in a rural community, where she divided her time
between the hospital emergency room and primary care clinic.
She then went on to join an Ob-Gyn practice where she has worked as a Nurse
Practitioner for the past 16 years, providing obstetrical, medical, and health and
wellness care to women of all ages. While women's healthcare has been very
rewarding, she is looking forward to returning to a Family practice setting where she can
continue her work with women as well as all individuals.
One of her favorite aspects of being a Nurse Practitioner is getting to know her patients
on an individual level and helping them towards becoming their healthiest self.
Julie received her Family Nurse Practitioner degree from Gonzaga University in 2001.
Julie's move brings her closer to family, which she is looking forward to. She is also very
excited to explore and get to know the beautiful Prescott area and all the
outdoor activities the area has to offer.
James McCarver, MD
Dr. McCarver, a long-time resident of Prescott, comes to Complete Care as the Medical Director with over 50 years of clinical experience. He graduated from University of Arizona College of Medicine in 1973, and completed his residency at Children's Medical Center of Dallas.
Dr. McCarver values his community above all else. He regularly volunteers at Sharlot Hall Museum, participates in local organizations dedicated to the arts, enjoys traveling, and is an avid cyclist. Although he is not seeing patients at Complete Care, Dr. McCarver continues to attend to patients as an on-call pediatric specialist at Yavapai Regional Medical Center.
Now accepting new patients!
Want an In-Person Appointment?
Request an appointment to see a provider in the clinic.
Interested in Telemedicine?
We offer telemedicine for established patients needing the convenience of video visits.